---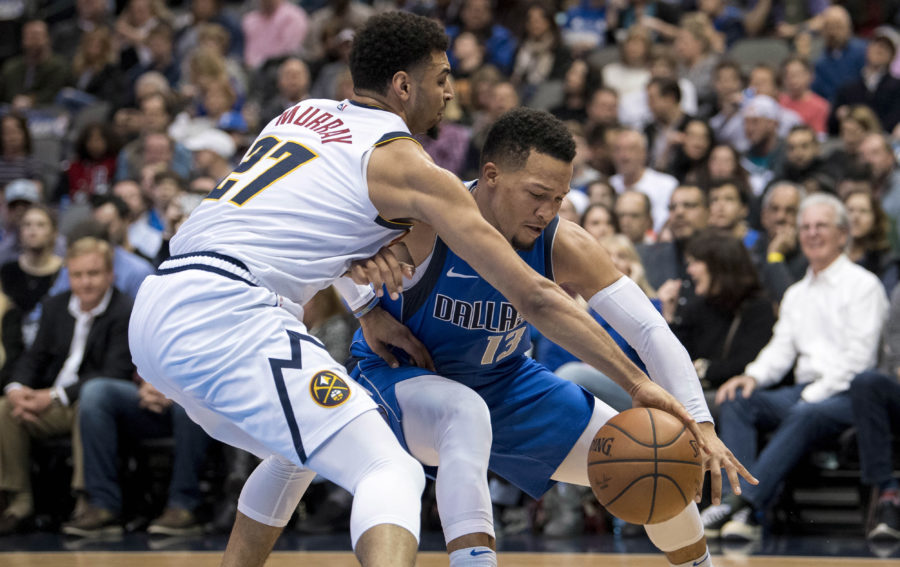 The Nuggets had an eventful All-Star weekend with their entire coaching staff taking on the responsibilities of coaching in the Celebrity All-Star game, the Rising Stars game, and also the All-Star game itself — the same game that Nikola Jokic and Team Giannis lost to the Michael Malone-led Team LeBron just a day after Jokic participated in the Skills Challenge.
With the All-Star festivities behind them, the Nuggets turned their attention to the final 25 games of the regular season with their sights set on home-court advantage in the playoffs. They took their first step toward accomplishing that goal with their 114-104 road win over the Dallas Mavericks.
No Nuggets player scored more than 19 points, but seven different players scored in double digits including all five starters as Denver used a full team effort to come away with a hard-fought win in Dallas. There were many narratives to dive into from Denver's 40th victory of the season, so with that being said, here are five takeaways from Denver's 10-point win over the Mavericks.
Denver played with terrific energy all night on both ends of the floor
The biggest storyline of the Nuggets win over the Mavericks was the relentless energy that Denver played with on both ends of the floor.
Every player that logged minutes in Dallas gave maximum effort on each possession. Jamal Murray was the definition of a pest on defense (more on that later) as he managed to get into passing lanes, was physical in the post and in pick and rolls, and also had a massive block on a corner 3-point shot after he saved a pass from going out of bounds on the opposite end of the floor in the opposite corner. Just look at Murray come flying into the video below.
In addition to Murray's endless energy, Gary Harris' return brought a heightened defensive intensity, Paul Millsap was the same stingy defender he has always been, Jokic was getting under Salah Mejri's skin every chance he could get, Will Barton was getting into passing lanes, Isaiah Thomas was constantly applying pressure to Dallas' defense, and so on. Every member of the Nuggets roster gave everything they had when they were on the floor.
Denver won every hustle category and out-worked the Mavericks in Dallas. When Denver plays with that much urgency, it is nearly impossible to beat them.
Jamal Murray's offensive struggles continue after the All-Star break
While most players on the Nuggets' roster looked rejuvenated and refreshed after the All-Star break, Murray did not. He looked tired and less explosive than he usually is. He did come alive in the third quarter, but for the rest of his 33 minutes of playing time, things did not go particularly well.
If you take out his eight-point flurry in the third quarter that happened in just over two minutes of game time, Murray was only 2-of-11 shooting from the field and 0-of-4 from 3-point range for four points in addition to some shaky decision making in the other 31 minutes of action.
It is fair to wonder if one of his many ailments could be bothering him. Murray has had contusions to his right forearm and left shin, tightness in his left hamstring, and issues with both ankles — particularly his left ankle — all season. Even worse, Murray ended up getting his legs taken out by former Nuggets guard Devin Harris and he came up holding his left ankle in the second quarter; the same ankle that kept him out for six games earlier this year.
To Murray's credit, his effort was fantastic all game on both ends of the floor. Just look at this sequence that he had in the second quarter.
He may have struggled converting his shots, but he defended at a very high level because of how hard he was playing. Murray was flying around and giving his all from buzzer to buzzer as usual.
Gary Harris' defense was badly missed
Since January 1st, 2019, the Nuggets are 22nd in defensive rating with an awful 111.9 mark after being a top-five defense for the first two months of the season.
Many have searched for the reasoning for Denver's drastic defensive downfall, but it seems that the cure to their defensive ailments was sitting on the bench the entire time.
With Harris on the floor, the Nuggets are a significantly better defensive team. Harris came off the bench and was on a minutes restriction in his first game back after an adductor injury kept him out seven games leading up to the All-Star break, but for each and every one of his 20 minutes, Harris was reminding everyone how direly important he is to the Nuggets' success.
When Harris has been on the floor for the Nuggets this season, they are posing a defensive rating of 104.4, which would being the third-best defensive rating in the league. When Harris is off the floor, that number jumps to 108.9 which would be 15th in the league. Simply stated, Denver is mediocre defensively without Harris and they are elite with him.
Seeing Harris be so productive defensively in his first game back is a great sign for Denver's defensive upside as they march toward the playoffs.
Paul Millsap thrives in ugly games
The Nuggets were ice cold in the first half offensively. Even when they generated good looks, their shots were not falling. The frustration was mounting, but Millsap kept Denver even-keeled and calm as he found ways to manufacture points when Denver needed it most.
Millsap was not hyper-efficient as a scorer in Dallas, but no one was. The battle between the Mavericks and the Nuggets was a sloppy and ugly game. Denver needed to find a way to produce regardless of how clunky the game was if they were going to find a way to come out with a victory.
Millsap answered that call on both ends of the floor.
Some people get frustrated with Millsap's post-ups or his fallaway jumpers in the paint, but in ugly games, that style of play can be effective even when the rest of the offense is not. Yes, Millsap was able to hit a 3-pointer and score within the offense, but where he truly shined was when Denver's offense stagnated and lost its flow. That is when Millsap began to feast as an offensive rebounder, began getting to the foul line, and creating points in any way he could. Without Millsap's ability to score in a one-on-one setting, Denver's first half could have been significantly more detrimental.
It is games like this where Millsap's skill-set becomes so incredibly valuable.
Nuggets win a defensive game on the road to begin the final push towards the playoffs
As the Nuggets look to battle their way to home-court advantage in the playoffs, they will need to accomplish two things: win games on the road and get back to being a strong defensive team.
In Dallas against the Mavericks, Denver accomplished both.
Denver held Dallas to just 104 points on 40.5 percent shooting from the field and 24.4 percent from 3-point distance while also forcing 15 turnovers. The Nuggets also had 21 more rebounds than Dallas including seven more defensive rebounds. At every turn, the Nuggets were contesting every possible shot, were running 3-point shooters off the line, and most importantly, they were communicating the entire game on the defensive end of the floor.
Denver also logged its 15th road win of the season — the same number that Denver had all of last season. The Nuggets are now 15-14 on the road with another 12 road games remaining.
If Denver can keep winning games on the road like they have all year and defending with intensity like they did in Dallas on Friday night, it will go a long ways towards securing a top-four seed in the Western Conference.
The post Five takeaways from Denver's road win in Dallas over Mavericks appeared first on Mile High Sports.